It's almost Halloween, and if you're like many people with busy lives, you probably have one last costume component to buy. While you comb through the aisles, trying to complete the perfect costume in your head, you'll undoubtedly grab some face paint just incase you need to add some final touches.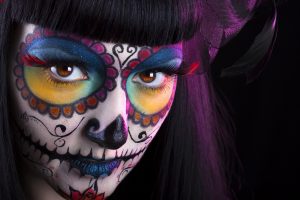 Today, face painting has taken on a world of it's own. You can find a variety of colors, tools, fake scars, and even options that glow in the dark. Along with your intake of sugar on Halloween, the compulsion to overdue your "ghoulish look" can also be strong.
While, one night of extreme makeup probably won't ruin your skin, you should at least take the precaution of reading the product labels before decorating your face.
Check for ingredients you might be allergic to
Read and follow directions (especially for makeup used around sensitive areas of your face like your eyes)
Don't leave your makeup on overnight
Remove your makeup if it causes irritation
Go to the doctor if you have a severe reaction
When you get home, be certain to gently cleanse your whole face, and don't wear your makeup to bed. It has a greater chance of irritating your eyes if you leave it on and then pull the covers over your head.
Be sure to research the type of makeup you purchase because some pigments can stain even after the makeup is removed, and some methods for removal work better than others. If you're not comfortable wearing it, then don't. Halloween is one night, and you still have time to finalize your costume.
If you have more questions about the affects certain makeup can have on your skin, or if you think you may have sensitive skin, consult Dr. Amanda Friedrichs of Radiant Dermatology to look great this Halloween while also remaining healthy.