Meet the Radiant Dermatology Staff

Dr. Amanda Friedrichs
Learn More
Dermatologist Amanda Friedrichs, MD
Sycamore's Premier Choice for Dermatology
Dr. Friedrichs graduated magna cum laude from the University of Illinois in Urbana-Champaign with her undergraduate degree in biology. She earned her medical degree, also with honors, at the University of Illinois College of Medicine in Rockford and finished her medical internship at West Suburban Hospital in Oak Park, Illinois.
Dr. Friedrichs completed her dermatology residency at the University of Iowa Hospitals and Clinics. She began her career at the former Dekalb Clinic where she worked for nearly 7 years. In March 2015, her dream of owning her own practice in her hometown community became a reality and she opened the doors of Radiant Dermatology.
She specializes in the diagnosis and treatment of the many forms of skin cancer, acne, eczema, and psoriasis. Dr. Friedrichs also offers Mohs surgery, giving patients a local option to have facial and more aggressive skin cancers treated. Along with treating medical conditions, she also performs an extensive array of cosmetic procedures to provide patients with a refreshed appearance and radiant glow.
One of the most important parts of Dr. Friedrichs' job is educating her patients about skin cancer and sun exposure. She is committed to continuing education so she may offer only the best skin care options to her patients. She regularly travels to professional meetings to learn about the latest trends in dermatology. She is also an active member and committee participant in the American Academy of Dermatology. Dr. Friedrichs was instrumental in bringing the AAD's "Indoor Tanning is Out" campaign to sororities and fraternities across the US and to the DeKalb/Sycamore and NIU communities.
In her free time, Dr. Friedrichs enjoys running and leading an active lifestyle with her two sons and their family dog.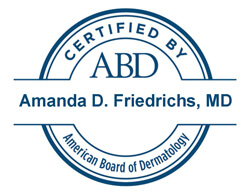 Ashli Schoenholz, ARNP
Learn More
Ashli Schoenholz is a nurse practitioner at Radiant Dermatology in Sycamore. With six years of previous nursing experience, along with a master's and bachelor's degree in nursing from Northern Illinois University, Ashli is a vital part of the Radiant Dermatology team where she loves working with patients on an individual basis and educating them about preventative measures that can promote an optimal, healthy life.
Since she was a child, growing up in Rochelle, IL, Ashli knew she would one day pursue a career in the medical field. After graduating from NIU with her B.S. in Nursing, she began working with Dr. Amanda Friedrichs in 2008 and immediately fell in love with dermatology.
In order to have a more central role in helping patients, Ashli decided to continue her education and earned her M.S. in Nursing, with a Family Nurse Practitioner specialization. When Dr. Friedrichs returned to the area to open Radiant Dermatology, the two reunited at the new practice.
When she's not working with patients, Ashli enjoys the small town feel of the DeKalb/Sycamore area, and also leads an active lifestyle outdoors with her husband, two daughters, and son.
Our Team
Learn More
Lisa G., Front Desk Specialist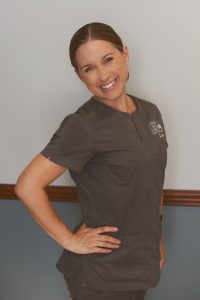 Lisa lives in Cortland with her husband of 13 years and three very energetic children. What she enjoys most about working at Radiant Dermatology is the family atmosphere between the staff and patients. It is such a friendly, happy place to be a part of. As a member of the Radiant Dermatology family, she gets to benefit from many of the products and procedures that we offer.
Her favorite products are the brightening kit and the Colorescience Even Up®, which help to even out skin tone from melasma and acne scarring. The procedures that she enjoys most are the SilkPeel Diamond Dermalinfusions® and laser hair removal. Who doesn't want to get rid of clogged pores and unwanted hair!?
She looks forward to greeting you at the door and welcoming you into the Radiant Dermatology family.
---
Gretchen, Licensed Esthetician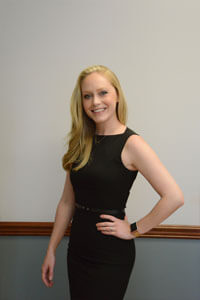 Gretchen grew up in the lovely city of DeKalb. After high school, she moved to New York and traveled for a while before coming back, meeting her husband and having her daughter. She's always been interested in the beauty industry and got to have a lot of different experiences in this field before deciding to get her esthetics license. She has been an esthetician since 2007. She happiest in her career when she's able to help people achieve the results they've always wanted to have with their skin and working at Radiant Dermatology has made that become a reality. The technology that she gets to work with here is incredible.
If she had to choose a favorite product out of all the fabulous skincare at Radiant Dermatology, it would be the Brightening Kit. It truly is hard to pick just one though because she uses everything here – from our Colorescience® mineral makeup line to the sunscreens, and also the Radiant Dermatology skin care line. As far as services go, she loves the SilkPeel Diamond Dermalinfusion®. It makes your skin absolutely glow with no downtime!
She looks forward to helping more people in the future, learning something new every day, and having a career that she loves.
---
Jan, Patient Revenue Coordinator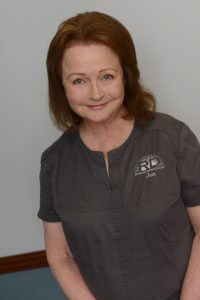 Jan resides in Sycamore with her husband, Craig. They have two wonderful grown children and two amazing grandsons. For relaxation, she enjoys biking, walking, reading, and playing with her grandsons. Her past work history includes supervision of a medical transcription department in a hospital. Her favorite thing about working at Radiant Dermatology is having the opportunity to work closely with her daughter, Dr. Amanda Friedrichs.
Her favorite product at Radiant Dermatology is Sunforgettable®, a mineral sunscreen protection. Her favorite service at Radiant Dermatology is the SilkPeel Diamond Dermalinfusion®.
---
Melanie, Office Manager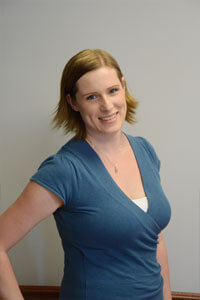 Melanie grew up in Kingston and currently lives in Dekalb with her husband, son, and their two dogs. She studied math, chemistry, and biochemistry, but found her niche in medical billing and coding. She is a Certified Professional Coder, Certified Professional Compliance Officer, and a Certified Professional Medical Auditor through the American Academy of Professional Coders. She is currently working on becoming a Certified Physician Practice Manager. She is also a member of the National Alliance of Medical Auditing Specialists.
Melanie has been working as a medical coder and biller since 2008, specializing in Dermatology, Urology, Family Practice, Internal Medicine, Pediatrics, General Surgery, and Pulmonology. She previously worked with Dr. Friedrichs from 2010-2014 and is looking forward to dedicating her medical coding and billing skills to Radiant Dermatology and their extensive patient base.
---
Amy, CoolSculpting® Specialist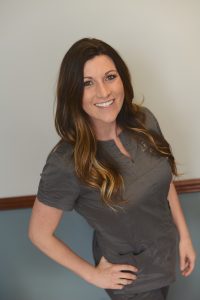 Amy grew up in Sycamore. After moving away for several years for school and work, she realized Sycamore is where her heart belonged and decided to come home. During that time, she graduated from school with a degree in massage therapy, and worked in the salon and spa industry for many years. She has a beautiful daughter named Charlie Jo who, along with the rest of her family, she loves spending endless hours with. Being the CoolSculpting® Specialist allows her to help people achieve their fitness and aesthetic goals. To see patients with big smiles on their faces because they feel better in their own skin is one of the many things that makes her job here at Radiant Dermatology so great.
Her favorite product: Colorescience Even Up. Favorite service: Besides the obvious CoolSculpting because it has given me my pre baby body back. TCA peels have been my go to for a great resurfacing treatment that gives me an even skin tone.
---
Andrea, CMA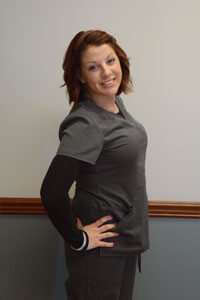 Andrea has 4 amazing children, ranging in age from 5 to 16 years old. She was born and raised in Sycamore, but currently lives in Batavia. She has been a CNA (Certified Nursing Assistant) for 14 years and recently received her certification as a Medical Assistant. She has worked for Dr. Friedrichs for almost 6 years now. She would have to say that her favorite thing about Radiant Dermatology would have to be the patient interaction. She loves the interaction with patients, all the way from assisting in the procedures and bandaging, to calling the patients for biopsy results. Patients always remember smiling happy faces and she LOVES to give that to them!
Her favorite products at RD would have to be those that combat aging. From the topical products to injections (botulinum toxin and fillers) that Dr. Friedrichs provides. Her most favorite service is definitely the CoolSculpting®.
---
Samantha, Front Desk Specialist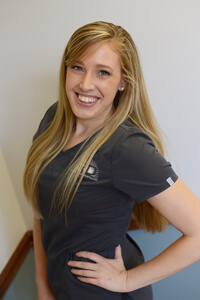 Samantha grew up on the south side of Chicago. After high school, she enrolled at Northern Illinois University college of Liberal Arts and Science. She graduated with a bachelor's degree in biology with a minor in chemistry and family consumer nutrition science. She enjoys spoiling her dog, Mila, traveling, and working out in her free time. Her favorite part about working at Radiant Dermatology is seeing the patients journey from beginning to end. After being treated by Dr. Friedrichs, patients have clear skin and a major confidence boost.
Samantha's favorite services at Radiant Dermatology are CoolSculpting and SilkPeel Dermalinfusions. Her favorite product is Perfect Eyes Plus because it's a well-rounded eye cream that takes care of all trouble areas around the eyes. She also loves the Sunforgettable mineral sunscreen because it is great for re-applying throughout the day and perfect for traveling.
Sarah, CNA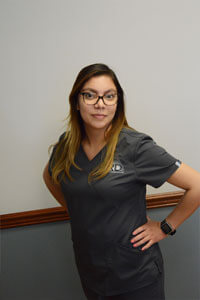 Sarah grew up in DeKalb. During high school, she obtained her CNA and began her career in healthcare. She grew up in a bilingual household and speaks fluent Spanish. In her free time, Sarah enjoys spending time with her family and taking her son to the zoo.
Sarah's favorite products are the EltaMD UV Clear and Foaming Cleanser. Her favorite service offered at Radiant Dermatology is the SilkPeel Dermalinfusion. She feels that the combination of these products and services leaves her skin feeling refreshed.
Contact us to learn more about our services and schedule an appointment at Radiant Dermatology today!