Meet the Radiant Dermatology Staff

Dr. Amanda Friedrichs
Learn More
Dermatologist Amanda Friedrichs, MD
Sycamore's Premier Choice for Dermatology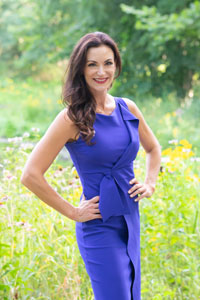 Dr. Friedrichs graduated magna cum laude from the University of Illinois in Urbana-Champaign with her undergraduate degree in biology. She earned her medical degree, also with honors, at the University of Illinois College of Medicine in Rockford and finished her medical internship at West Suburban Hospital in Oak Park, Illinois.
Dr. Friedrichs completed her dermatology residency at the University of Iowa Hospitals and Clinics. She began her career at the former Dekalb Clinic where she worked for nearly 7 years. In March 2015, her dream of owning her own practice in her hometown community became a reality and she opened the doors of Radiant Dermatology.
She specializes in the diagnosis and treatment of the many forms of skin cancer, acne, eczema, and psoriasis. Dr. Friedrichs also offers Mohs surgery, giving patients a local option to have facial and more aggressive skin cancers treated. Along with treating medical conditions, she also performs an extensive array of cosmetic procedures to provide patients with a refreshed appearance and radiant glow.
One of the most important parts of Dr. Friedrichs' job is educating her patients about skin cancer and sun exposure. She is committed to continuing education so she may offer only the best skin care options to her patients. She regularly travels to professional meetings to learn about the latest trends in dermatology. She is also an active member and committee participant in the American Academy of Dermatology. Dr. Friedrichs was instrumental in bringing the AAD's "Indoor Tanning is Out" campaign to sororities and fraternities across the US and to the DeKalb/Sycamore and NIU communities.
In her free time, Dr. Friedrichs enjoys running and leading an active lifestyle with her two sons and their family dog.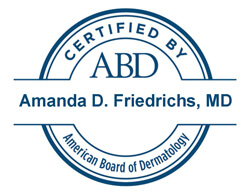 Ashli Schoenholz, ARNP
Learn More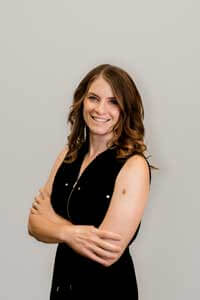 Ashli Schoenholz is a nurse practitioner at Radiant Dermatology in Sycamore. With six years of previous nursing experience, along with a master's and bachelor's degree in nursing from Northern Illinois University, Ashli is a vital part of the Radiant Dermatology team where she loves working with patients on an individual basis and educating them about preventative measures that can promote an optimal, healthy life.
Since she was a child, growing up in Rochelle, IL, Ashli knew she would one day pursue a career in the medical field. After graduating from NIU with her B.S. in Nursing, she began working with Dr. Amanda Friedrichs in 2008 and immediately fell in love with dermatology.
In order to have a more central role in helping patients, Ashli decided to continue her education and earned her M.S. in Nursing, with a Family Nurse Practitioner specialization. When Dr. Friedrichs returned to the area to open Radiant Dermatology, the two reunited at the new practice.
When she's not working with patients, Ashli enjoys the small town feel of the DeKalb/Sycamore area, and also leads an active lifestyle outdoors with her husband, two daughters, and son.
Our Team
Learn More
Amy, CoolSculpting® Specialist and Cosmetic Coordinator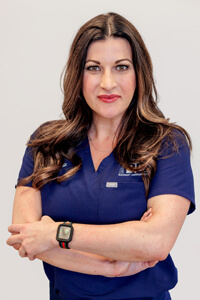 Amy worked in the salon and spa industry for many years where she gained a passion for helping people achieve their aesthetic goals in turn boosting their self-confidence. She has been with Radiant Dermatology since 2015 where she has expanded her knowledge of both medical and aesthetic dermatology. Amy was raised in Sycamore. After moving away for several years for school and work, she returned home where she now lives with her daughter Charlie and their dog, Layla.
Her favorite products are Biopelle Tensage Serum and Vitamin C Serum. Her favorite service is a DiamondGlow.
---
Samantha, CDT and CoolSculpting® Specialist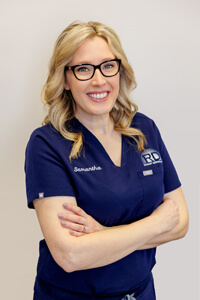 Samantha grew up on the south side of Chicago. After high school, she enrolled at Northern Illinois University college of Liberal Arts and Science. She graduated with a bachelor's degree in biology with a minor in chemistry and family consumer nutrition science. She enjoys spending time with her spouse Sean, spoiling her dogs, Achillies, Mila, and Koda, traveling, and crafting in her free time. Her favorite part about working at Radiant Dermatology is seeing the patients journey from beginning to end. After being treated by Dr. Friedrichs, patients have clear skin and a major confidence boost.
Samantha's favorite services at Radiant Dermatology are CoolSculpting and Diamond Glow Dermalinfusions. Her favorite product is the Sunforgettable mineral sunscreen because it is great for re-applying throughout the day and perfect for traveling.
---
Whitney, CCMA, Licensed Esthetician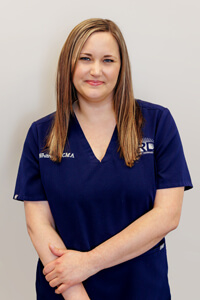 Whitney was born, raised, and currently resides in Hampshire. She became a licensed Esthetician in 2009, followed by becoming a certified laser technician that year. She has worn many different hats in a medical office, starting as a receptionist in 2008, then working in the billing department, and in 2015, she became a Certified Clinical Medical Assistant at an OB/GYN office.
In her free time, she enjoys going to country concerts, crafting, and spending time with her niece and nephews.
She's been helping patients achieve their skincare goals at Radiant Dermatology since 2019. Whitney's favorite service at Radiant Dermatology is Microneedling with PRP, although it sounds scary, it does wonders for your overall skin tone and texture. Her favorite product is ColoreScience FaceShield Flex SPF 50, it is a magical sunscreen and it matches with your skin type perfectly, gives you the perfect amount of coverage, and protects you from the sun.
---
Gretchen, Licensed Esthetician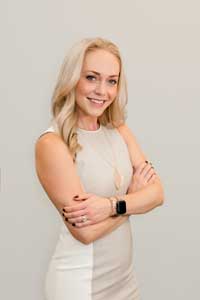 Gretchen was born and raised in DeKalb and moved to New York after high school where she developed a passion for the beauty industry. After 4 years of working in New York and getting to travel and learn more in Italy and Greece she came back to DeKalb where she met her husband with whom she has two wonderful kiddos (Emma and Hudson). She got the amazing opportunity to work at Radiant Dermatology and has been here since 2015, with a couple breaks in there to take care of her babies. Gretchen has been an Esthetician for over 15 years and absolutely loves helping people achieve their skin and beauty goals. Whether it be with a well thought out skin care regimen or the fantastic treatment options we have here at Radiant Dermatology, she is excited to help you get to where you want to be.
If Gretchen had to pick her favorite products she would have to say they are Colorescience FaceShield Flex, Radiant Dermatology Advanced Vitamin C Serum, and Tensage by Biopelle. Her all-time favorite treatment to give and receive would definitely be the Diamond Glow dermalinfusion, with the IPL treatment at a close second. To be honest it's hard for her to pick any favorites as she uses almost all of the products here and loves every treatment we have. They are all so good!!
---
Brittany, CDT, CNA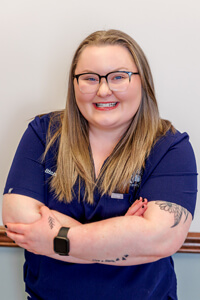 Brittany was born and raised here in Sycamore. Her passion for healthcare started at a young age after her brother was diagnosed with a disease. While attending high school, she was able to start her medical certification early, and has been in the medical field since 2016. Pursuing the medical field at such a young age has given her the opportunity to learn and provide exceptional care in many different settings such as Rehabilitation, Assisted Living, Critical Care and now Dermatology! In her free time, Brittany enjoys spending time with her Dog, Koda, visiting her family's lake house and going to concerts! Her favorite part about working at Radiant Dermatology is knowing that she is helping an individual in their time of need.
---
Aubrey, CCMA, Licensed Esthetician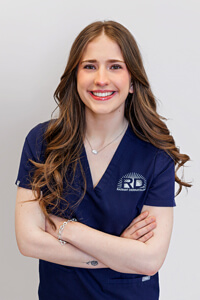 Aubrey was born, raised and currently resides in Sandwich. From a very young age, she has been interested in skin care and making others feel confident and knowledgeable about their skin care and the importance of it. She attended the International Skin Beauty Academy in Schaumburg, IL, where she earned her Esthetician license and her CCMA. Being in this intense program solidified that she is most assuredly following her dream. On her spare time she enjoys spending time with her boyfriend and family. She enjoys spontaneous adventures! She very much loves working with people and is very excited to expand her knowledge.
---
Jennie, CMA Team Lead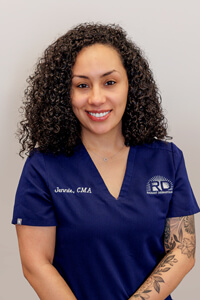 Jennie was born and raised in Chicago, where she met her fiancé, Bogdan. Together, they share 4 children and currently reside in Genoa. She has always known that she wanted to be in the medical field and in 2013 graduated Northwestern College with an Associate's degree in Applied Science and Medical Assisting. She continued on with her education and received a degree in Language Arts. Now, with a decade worth of experience in multiple different specialties, Jennie has found her home here at Radiant Dermatology. On her free time, she enjoys spending time with her family and traveling.
---
Stacy, PSR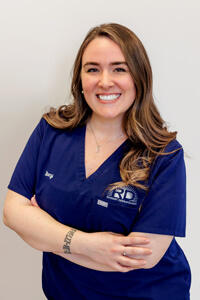 Stacy grew-up in the small town of Leland. She currently resides in Sycamore with her significant other and their son, Hunter and currently have twins on the way. She has been with Radiant Dermatology since the summer of 2022, but has been working in the Sycamore area for many years. She enjoys spending her spare time with family and close friends. One of the many joys about working at Radiant Dermatology is the continuous knowledge of skin care regimens for both cosmetic and medical treatments.
Stacy's Favorite Radiant Dermatology products is the Brightening Polish. She likes the facial cleanser because it leaves her face feeling bright, exfoliated and radiant. She enjoys the Diamond Glow Dermalinfusion cosmetic treatment. The treatment leavers her skin feeling refreshed and ready for any and all occasions.