Latisse™ Provider in Sycamore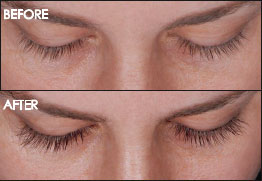 Do you have short, skimpy eyelashes? Have you tried every over-the-counter product claiming to thicken, lengthen, and add glamour to your lashes, with lackluster results? Come to Radiant Dermatology to learn more about Latisse™, a revolutionary treatment that makes barely-there lashes a thing of the past.
Latisse™ is the first and only FDA approved product to treat inadequate or sparse lashes. This simple treatment is making some women's lashes so long, they're finding it necessary to trim them down! Latisse™ is believed to work by not only extending the length of the growth phase of the eyelash, but also by increasing the quantity of lashes grown, leaving you with longer, thicker, and darker eyelashes.

Latisse™ is safe, effective, and easy to use.
Prepare the applicator: Place one drop of solution on the applicator.
Apply to your skin: Draw the applicator carefully along the skin at the base of your upper eyelashes, just as you would apply liquid eyeliner.
Blot excess: Using a tissue, blot away excess solution.
Are you interested in Latisse™ for fuller eyelashes?
Latisse™ reviews are glowing – dermatologists and patients alike rave about this product! Contact us to schedule a consultation at Radiant Dermatology.