Summer is a popular time for patients to be considering laser hair removal so we wanted to offer some facts and answer some frequently asked questions about the procedures. Laser hair removal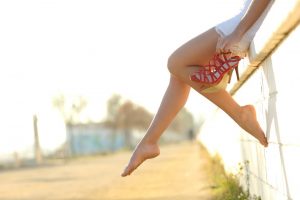 is a cosmetic procedure that removes unwanted hair from the face and body using lasers. The lasers used are safe for most areas of the body including the face, legs, and bikini area. Many people choose laser hair removal over shaving and waxing because laser treatments last longer and can even save you money in the long run. Minor side effects such as swelling and redness are common but more serious complications can occur if the procedure it is performed by someone inexperienced. To ensure the safest and most effective treatment, make sure you are going to a board-certified dermatologist.
Most patients are able to return to their normal lives afterwards with minimal to no downtime. Laser hair removal works best when hair follicles are in their mature stage, however, at any given time, your hair is in various stages of growth. That is why multiple treatments are required. With each treatment, the hair is reduced and becomes less noticeable. The number of treatments necessary differ based on your hair color, skin tone, hair type and body area, however best results are typically achieved with around six treatments.
Before beginning any skincare treatment, it is important to meet with your doctor and discuss the best options available. At Radiant Dermatology, Dr. Amanda Friedrichs and staff provide comprehensive consultations and are ready to answer all of your questions. Call us today at (815) 981-4990 to schedule an appointment.