Amy, CoolSculpting® Specialist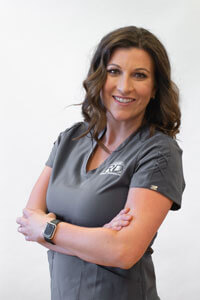 Amy grew up in Sycamore. After moving away for several years for school and work, she realized Sycamore is where her heart belonged and decided to come home. During that time, she graduated from school with a degree in massage therapy, and worked in the salon and spa industry for many years. She has a beautiful daughter named Charlie Jo who, along with the rest of her family, she loves spending endless hours with. Being the CoolSculpting® Specialist allows her to help people achieve their fitness and aesthetic goals. To see patients with big smiles on their faces because they feel better in their own skin is one of the many things that makes her job here at Radiant Dermatology so great.
Her favorite product: Colorescience Even Up. Favorite service: Besides the obvious CoolSculpting because it has given me my pre baby body back. TCA peels have been my go to for a great resurfacing treatment that gives me an even skin tone.
---
Samantha, Clinical Staff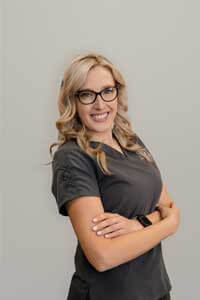 Samantha grew up on the south side of Chicago. After high school, she enrolled at Northern Illinois University college of Liberal Arts and Science. She graduated with a bachelor's degree in biology with a minor in chemistry and family consumer nutrition science. She enjoys spoiling her dog, Mila, traveling, and working out in her free time. Her favorite part about working at Radiant Dermatology is seeing the patients journey from beginning to end. After being treated by Dr. Friedrichs, patients have clear skin and a major confidence boost.
Samantha's favorite services at Radiant Dermatology are CoolSculpting and SilkPeel Dermalinfusions. Her favorite product is Perfect Eyes Plus because it's a well-rounded eye cream that takes care of all trouble areas around the eyes. She also loves the Sunforgettable mineral sunscreen because it is great for re-applying throughout the day and perfect for traveling.
---
Whitney, CCMA, Licensed Esthetician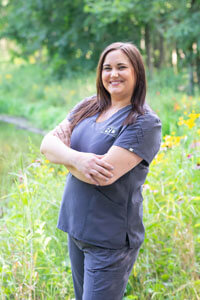 Whitney was born, raised, and currently resides in Hampshire. She has worn many different hats in a medical office, starting as a receptionist, later becoming a licensed Esthetician and laser technician. In 2015, she became a Certified Clinical Medical Assistant.
In her free time, she enjoys going to country concerts and crafting.
Helping patients achieve their skincare coals and seeing improvement in their skin is what Whitney enjoys most about this field. She joined our team in 2019 and is excited to learn all there is to know about skin from Dr Friedrichs.
---
Gretchen, Licensed Esthetician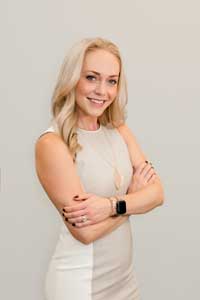 Gretchen was born and raised in DeKalb and moved to New York after high school where she developed a passion for the beauty industry. After 4 years of working in New York and getting to travel and learn more in Italy and Greece she came back to DeKalb where she met her husband with whom she has two wonderful kiddos (Emma and Hudson). She got the amazing opportunity to work at Radiant Dermatology and has been here since 2015, with a couple breaks in there to take care of her babies. Gretchen has been an Esthetician for over a decade and absolutely loves helping people achieve their skin and beauty goals. Whether it be with a well thought out skin care regimen or the fantastic treatment options we have here at Radiant Dermatology, she is excited to help you get to where you want to be.
If Gretchen had to pick her favorite products she would have to say they are Colorescience Even Up, Radiant Dermatology Vitamin C Serum, and Tensage by Biopelle. Her all time favorite treatment to give and receive would definitely be the Diamond Glow dermalinfusion, with the IPL treatment at a close second. To be honest it's hard for her to pick any favorites as she uses almost all of the products here and loves every treatment we have. They are all so good!!
---
Brittany, Clinical Staff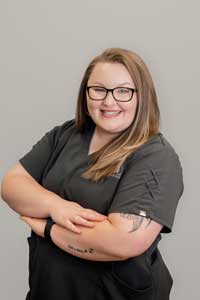 Brittany was born and raised in Sycamore and currently resides in a townhouse where she lives with her boyfriend and Shepherd girl, Koda. Her passion for wanting to help others was developed at a young age when her younger brother was diagnosed with a disease. From then on, she knew she belonged in the medical field. She has been in the medical field since 2016. Starting her medical classes early in high school has given her the opportunity to provide care in many different settings at a young age, such as Rehabilitation, Assisted Living, Critical Care and now Dermatology! Her favorite part about her job is the warm feeling she gets knowing that she's doing something to help someone else in their time of need and being able to see a patient's transition from beginning to end in their skin care journey.
---
Nicole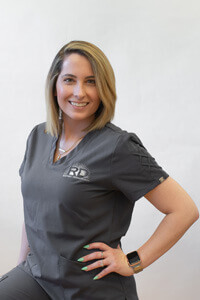 Nicole grew up in Chicago and transferred to Hunley in 2005. She always knew she belonged in the beauty industry. She began her career as an esthetician in 2008 and later started doing hair as well. After becoming a Medical Assistant in 2017, she transitioned to the medical field working in OB-GYN; with intentions of later working Dermatology. She found her home at Radiant Dermatology in 2019 where she is able to utilize her many talents. Her favorite products are the Radiant Dermatology Brightening Polish and ColoreScience EvenUp. Her favorite services are our Dermalinfusions and Lumecca IPL.