Dermatologist Amanda Friedrichs, MD
Sycamore's Premier Choice for Dermatology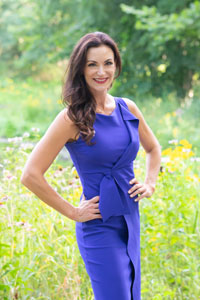 Dr. Friedrichs graduated magna cum laude from the University of Illinois in Urbana-Champaign with her undergraduate degree in biology. She earned her medical degree, also with honors, at the University of Illinois College of Medicine in Rockford and finished her medical internship at West Suburban Hospital in Oak Park, Illinois.
Dr. Friedrichs completed her dermatology residency at the University of Iowa Hospitals and Clinics. She began her career at the former Dekalb Clinic where she worked for nearly 7 years. In March 2015, her dream of owning her own practice in her hometown community became a reality and she opened the doors of Radiant Dermatology.
She specializes in the diagnosis and treatment of the many forms of skin cancer, acne, eczema, and psoriasis. Dr. Friedrichs also offers Mohs surgery, giving patients a local option to have facial and more aggressive skin cancers treated. Along with treating medical conditions, she also performs an extensive array of cosmetic procedures to provide patients with a refreshed appearance and radiant glow.
One of the most important parts of Dr. Friedrichs' job is educating her patients about skin cancer and sun exposure. She is committed to continuing education so she may offer only the best skin care options to her patients. She regularly travels to professional meetings to learn about the latest trends in dermatology. She is also an active member and committee participant in the American Academy of Dermatology. Dr. Friedrichs was instrumental in bringing the AAD's "Indoor Tanning is Out" campaign to sororities and fraternities across the US and to the DeKalb/Sycamore and NIU communities.
In her free time, Dr. Friedrichs enjoys running and leading an active lifestyle with her two sons and their family dog.